Call of Duty: Black Ops DLC - Annihilation Map Pack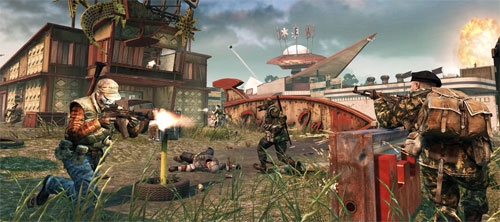 Obliterate the competition with Annihilation, the newest downloadable map pack for Black Ops, with four brand new multiplayer maps and one new zombie map. The Annihilation DLC map pack costs 1200 Microsoft Points / $15.

Drive-In
Features close-quarter fights and powerful overwatches at an abandoned outdoor cinema. The map has some sniping positions, but is very small and favours close-quarters combat.

Hangar 18
Located in a highly classified U.S. facility where you will fight through experimental weapons labs, the SR-71 test hangar and a mysterious autopsy room.

Hazard
This multiplayer map takes place on a cliffside golf course. Keep an eye out for snipers as you battle up and down the fairway.

Silo
Located in a massive Soviet nuclear missile site, that's under construction. This huge map has lots of close engagements and flank routes.

Shangri-La
This zombie map takes place in a legendary shrine lost in an exotic jungle, where the undead lurk within a treacherous labyrinth of underground caverns, deadly traps and dark secrets.

The Annihilation map pack is available on Xbox 360 (Xbox LIVE), PlayStation 3 (PSN) and PC (Steam).
Black Ops 3
Developed by Treyarch, Black Ops 3 is the latest Call of Duty game to be released on the PS3/PS4, Xbox and PC. Featuring new weapons, perks, maps, and scorestreaks the next black ops game is the most ambitious COD game to date. Multiplayer in COD: BO3 will be available on Xbox LIVE (requires Gold Membership), PlayStation Network and Steam.
Copyright © 2010 - 2023. All rights reserved.
This site is not affiliated with Activision (Black Ops 3 | BO3), Treyarch or Microsoft (Xbox 360, Xbox LIVE).