Little-Known Black Ops Facts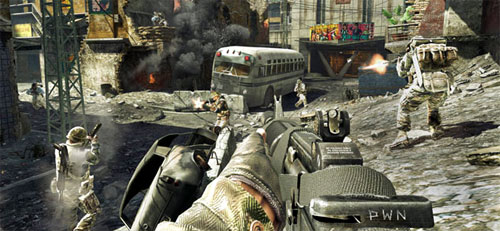 Here are some great lesser-known features that Call of Duty: Black Ops will have. The list below applies to the Xbox 360, PlayStation 3 and PC. Multiplayer Online Split-Screen Support
Let's get started with what I believe is the most unknown, yet confirmed, aspect to Call of Duty: Black Ops Multiplayer -- the online split-screen support we've re-introduced to the franchise! This applies to both the Xbox 360 & PlayStation 3.

The Facts:
You can connect a 2nd controller and bring a Guest online.
Guests can rank up, earn unlocks, etc -- all Guest progress goes away once signed out.
(Xbox 360 only) You can bring a 2nd, Gold Xbox LIVE account online!
(Xbox 360 only) Both players with full online accounts can rank-up while playing split-screen, as if on two separate consoles.

Custom Games Editor
Allow me to introduce the Black Ops Custom Games editor! Private Matches have never been this customizable. Players will have the ability to structure their games at all new levels of granularity. From variables as simple as Time Limit and Score Limit, or as deep as which weapons, Perks, and gear is available. You want a Pistols Only match? Make one! No longer do custom game modes rely on the "honor system".

Furthermore, any Custom Game you create and configure can be placed in your File Share, for friends and the community-at-large to browse, download, and enjoy. You just might create the most addictive new game mode of all time from the comfort of your own living room!

In-Game Friends List
We've integrated a built-in Friends List into the in-game User Interface. You'll be able to browse Recent Players, Friends, navigate their File Shares, Recent Games, Combat Records -- all within this in-game menu system designed to streamline the social process within the game. Sending game invites and joining Friends' games has never been simpler than in Call of Duty: Black Ops.

Regional Matchmaking & Party Privacy
Call of Duty: Black Ops will support regional matchmaking filters on a global scale. So, no matter where you're at in the world, you will have the ability to specify whether you want to match with players from other geographical regions, or only those local to you. This will make communication and lag a much less intrusive variable on your gameplay experience.

Additionally, given Black Ops and Modern Warfare 3 will support joining games in progress via an even simpler built-in in-game Friends List interface, we'll allow a Party leader to lock down his lobby to Invite Only, Friends Only, or even Close it altogether if he wants to be in complete control over who enters and exits the Party Lobby.

Emblems Do NOT Reset with Prestige
This one is pretty cut-and-dry -- a frequently asked question is, "Will my kickass MW3 emblem I spent hours perfecting be lost when I prestige??" The answer is, "NO!" -- Emblems are one of the only aspects of Black Ops MP that do not get a full reset upon entering Prestige. Things that will reset when you Prestige are: XP, COD Points, Challenge progressions, Loadouts, etc. Black Ops has 15 Prestige levels and 50 ranks per Prestige level.
Black Ops 3
Developed by Treyarch, Black Ops 3 is the latest Call of Duty game to be released on the PS3/PS4, Xbox and PC. Featuring new weapons, perks, maps, and scorestreaks the next black ops game is the most ambitious COD game to date. Multiplayer in COD: BO3 will be available on Xbox LIVE (requires Gold Membership), PlayStation Network and Steam.
Copyright © 2010 - 2023. All rights reserved.
This site is not affiliated with Activision (Black Ops 3 | BO3), Treyarch or Microsoft (Xbox 360, Xbox LIVE).