More COD Black Ops Nazi Zombie News
We already know that the Hardened and Prestige editions will have remakes of the Zombie maps from World at War, but Treyarch still isn't confirming that Black Ops will have a Zombie mode. When Treyarch's community manager was asked if the co-op mode will be about zombies, he had the following to say: Josh Olin:
"If Nazi Zombies have anything to do with our top-secret Co-Op mode, then it's a safe bet there will be a trailer for it eventually..." GameTrailers TV (GTTV) has also announced that their next episode will feature Call of Duty: Black Ops; "If you love the smell of achievements in the morning, be sure to tune in for next episode's COD7 coverage." The original Zombie mode in COD World at War was revealed on GameTrailers TV back in 2008, so it would be the perfect place to announce the "top-secret Co-Op mode" that Olin keeps hinting. The GTTV episode will air on 15th of October, 2010.

If that wasn't enough, Play-Asia is now listing BradyGames' COD Black Ops Strategy Guide with the following details: "... Plus, Achievements and Trophies, Co-Op and Nazi Zombie Coverage, and Custom Create a Class Loadouts ..."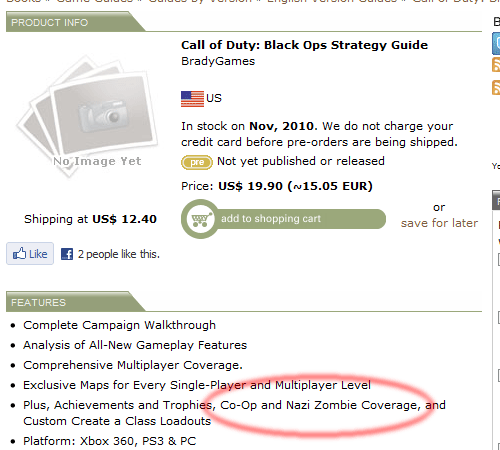 Again, nothing has been officially confirmed, but it doesn't take much to put the pieces together.

As a side note, Cheat Code Central published the full Xbox 360 achievement list today, but it was quickly confirmed to be 100% fake by David Vonderhaar.
Black Ops 3
Developed by Treyarch, Black Ops 3 is the latest Call of Duty game to be released on the PS3/PS4, Xbox and PC. Featuring new weapons, perks, maps, and scorestreaks the next black ops game is the most ambitious COD game to date. Multiplayer in COD: BO3 will be available on Xbox LIVE (requires Gold Membership), PlayStation Network and Steam.
Copyright © 2010 - 2023. All rights reserved.
This site is not affiliated with Activision (Black Ops 3 | BO3), Treyarch or Microsoft (Xbox 360, Xbox LIVE).